Perry J. Kirch, D.C.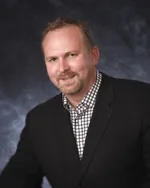 Dr. Perry Kirch is originally from Iowa. He earned his Doctor of Chiropractic degree from the National College of Chiropractic in Lombard, Illinois.  After graduating Dr. Kirch moved to Las Vegas where he was in a family practice.  A few years there he and his family decided to relocate to North Carolina, where he took over patient care at Garner Chiropractic Center.  Dr. Kirch has greatly expanded his practice since 2000.  He has changed the practice name to Garner Chiropractic and Wellness Center to express his holistic approach.
Dr. Kirch has a whole body approach to healthcare and wellness.  He uses Chiropractic, Acupuncture, Aqua-Massage, Neuromuscular Rehab., Laser Therapy, Non-Surgical Spinal Decompression, Exercise and Nutrition.  He is a Certified Strength and Conditioning Specialist and enjoys playing tennis and golf.
Dr. Kirch uses a variety of techniques, including: Diversified, Gonstead, Palmer Method, Non-Surgical Spinal Decompression and Activator.  He believes that Chiropractic is the foundation for optimal health and wellness.  Correct alignment of the spine enhances nerve function, which is essential for all systems of the body to function optimally.